Videmo 360

Videmo 360 is our all-in-one solution for face recognition in videos, photos and directly from cameras. Search retrospectively in video or perform live observation, stand-alone or in a team. All these features are combined in one application with an intuitive, user-friendly interface.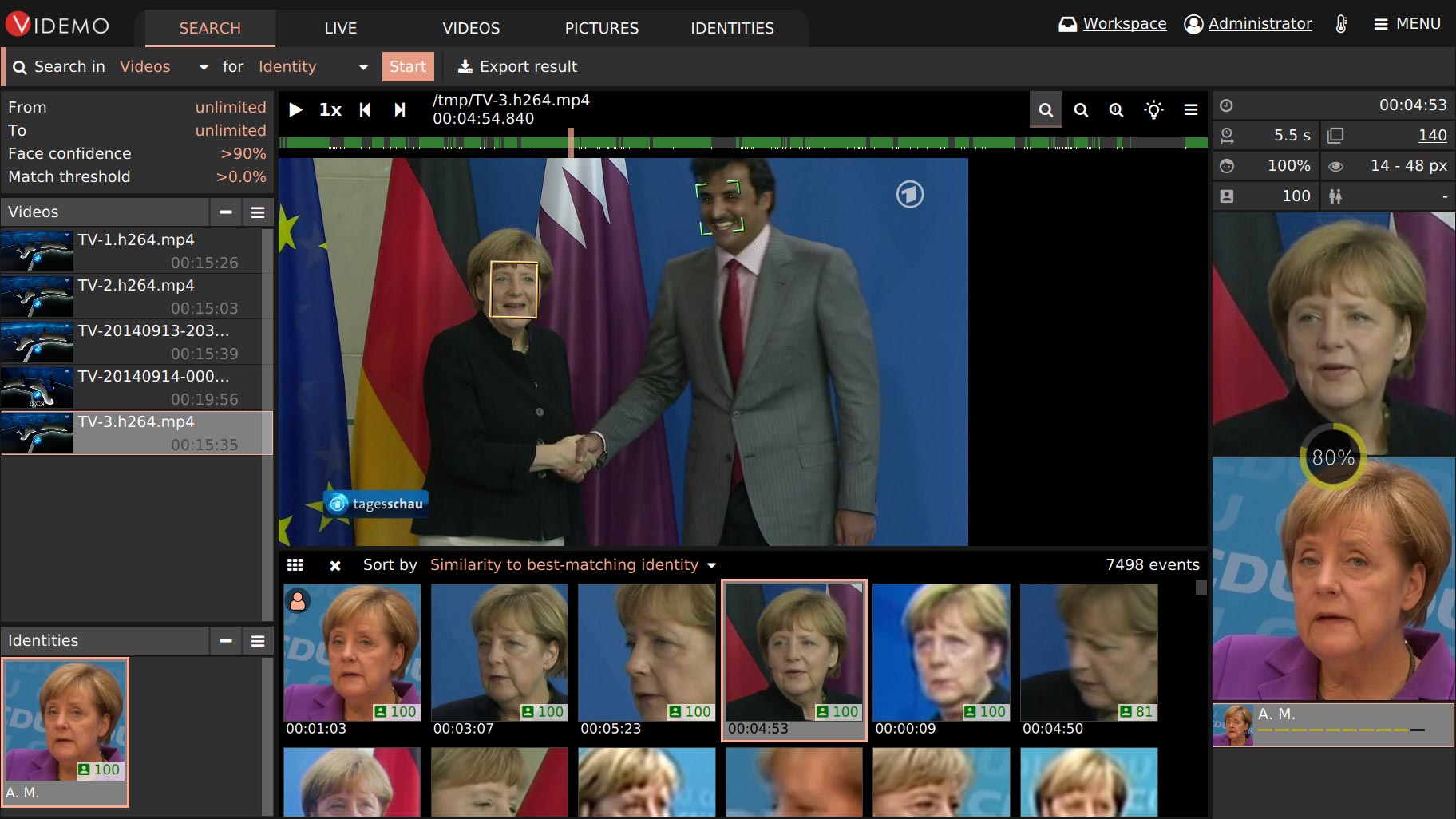 Functions at a glance
Process camera streams in real-time, find and recognize faces, manage identities, search in videos and pictures. As easy as never before.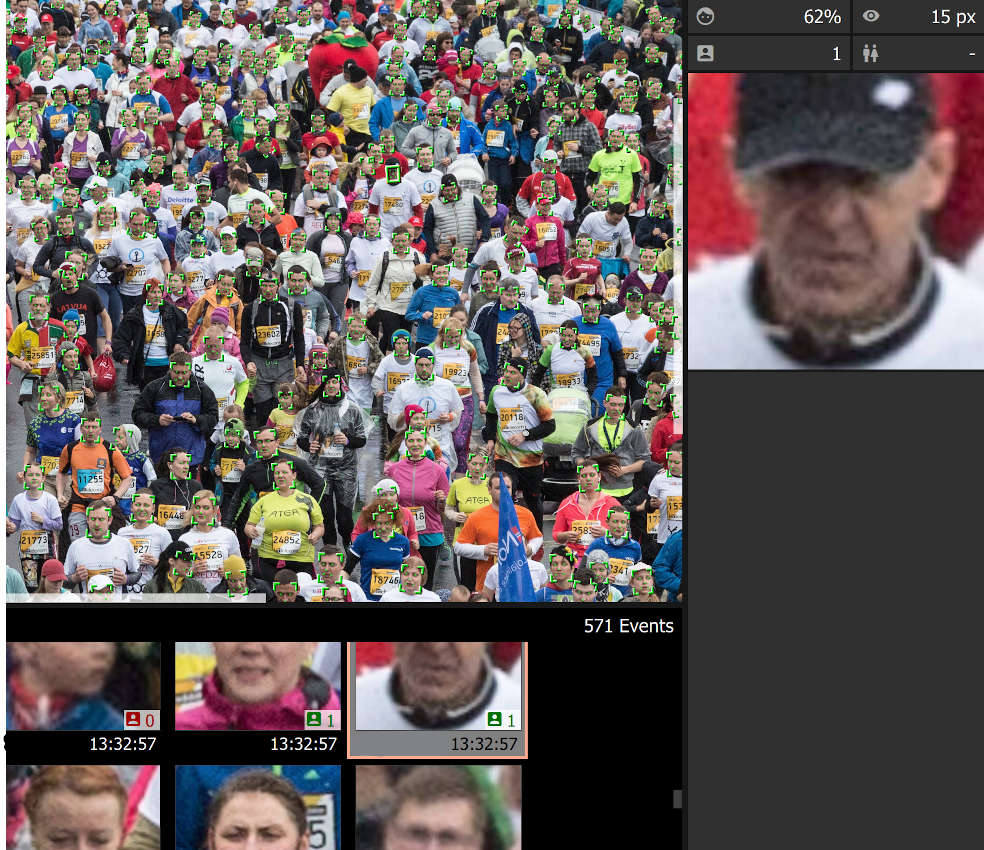 Analyze videos and photos

Videmo 360 automatically locates faces and creates templates. Each face or track becomes a discoverable event.
---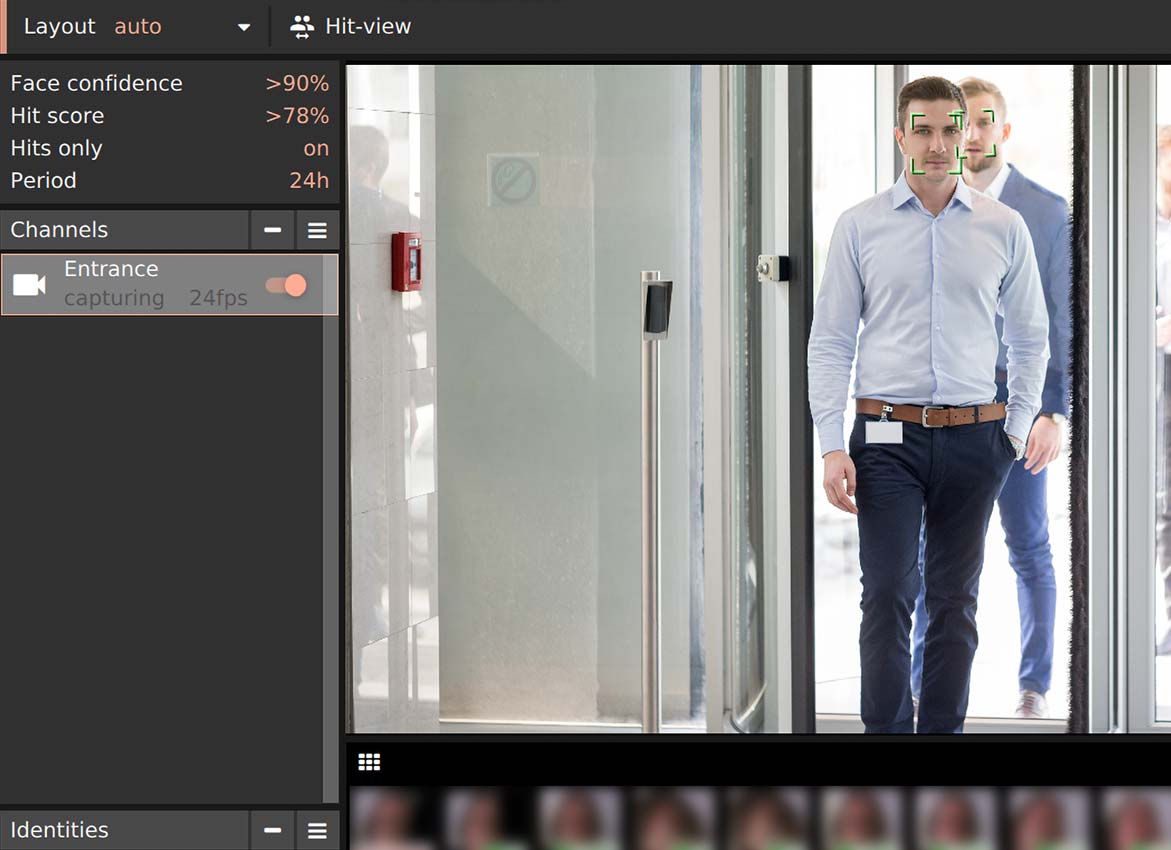 Live analysis

Cameras can be directly connected and analyzed in real time. In the live display, the resulting events can be observed as they are produced, hits are highlighted.
---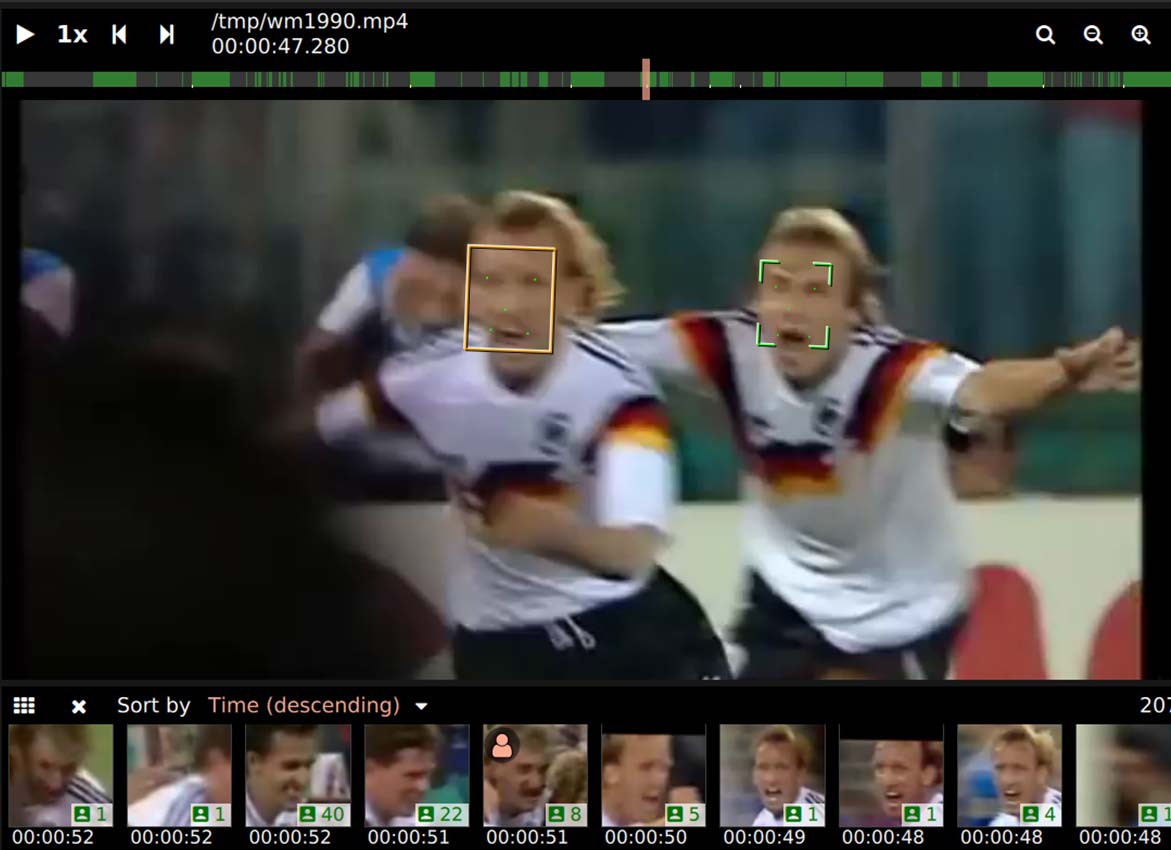 Integrated video player

In the built-in video player, every face is "clickable". There are also comfort functions such as magnification, variable speed, brightness adjustment, multi-monitor setup, etc.
---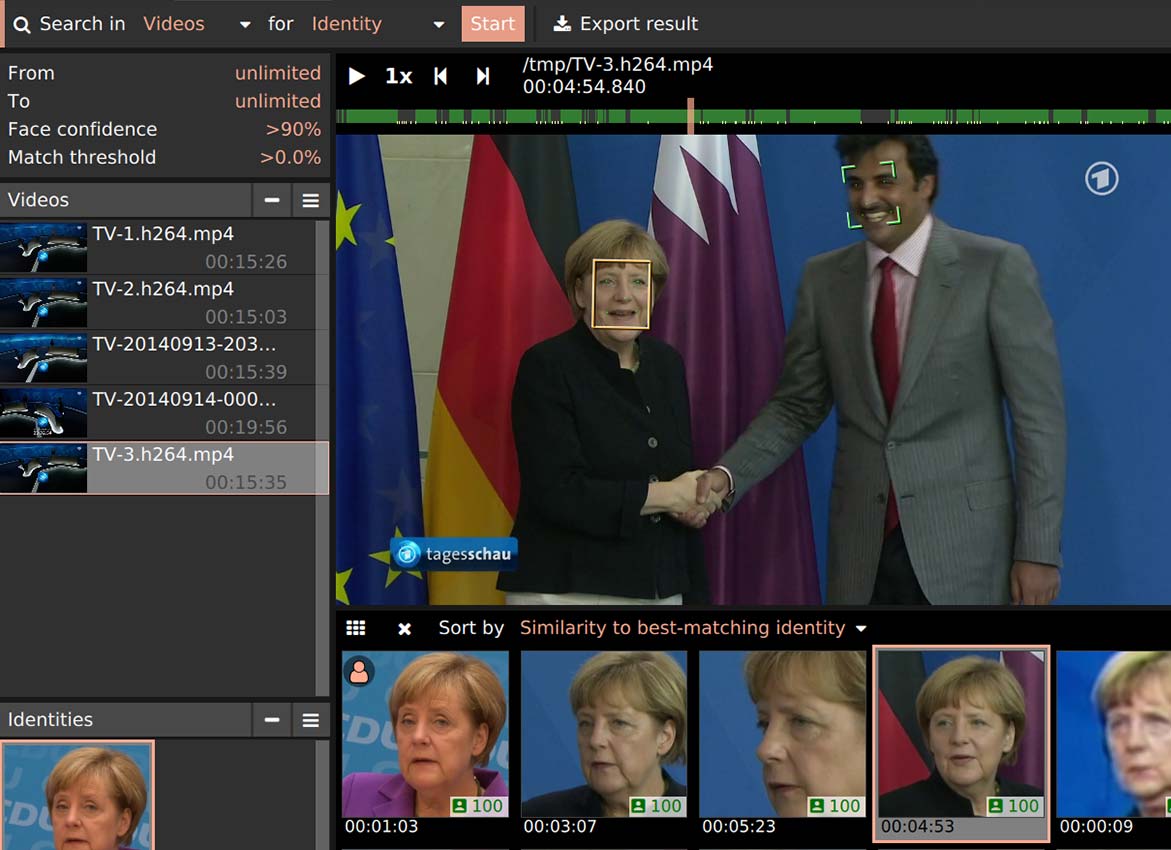 Retrospective search

Using retrospective search, videos, pictures and camera recordings can be searched for identities that were not known at the time of the recording. Various sortings and filters are available. Freshly discovered sightings of a person can be added easily to the query identity in order to iteratively refine the search.
---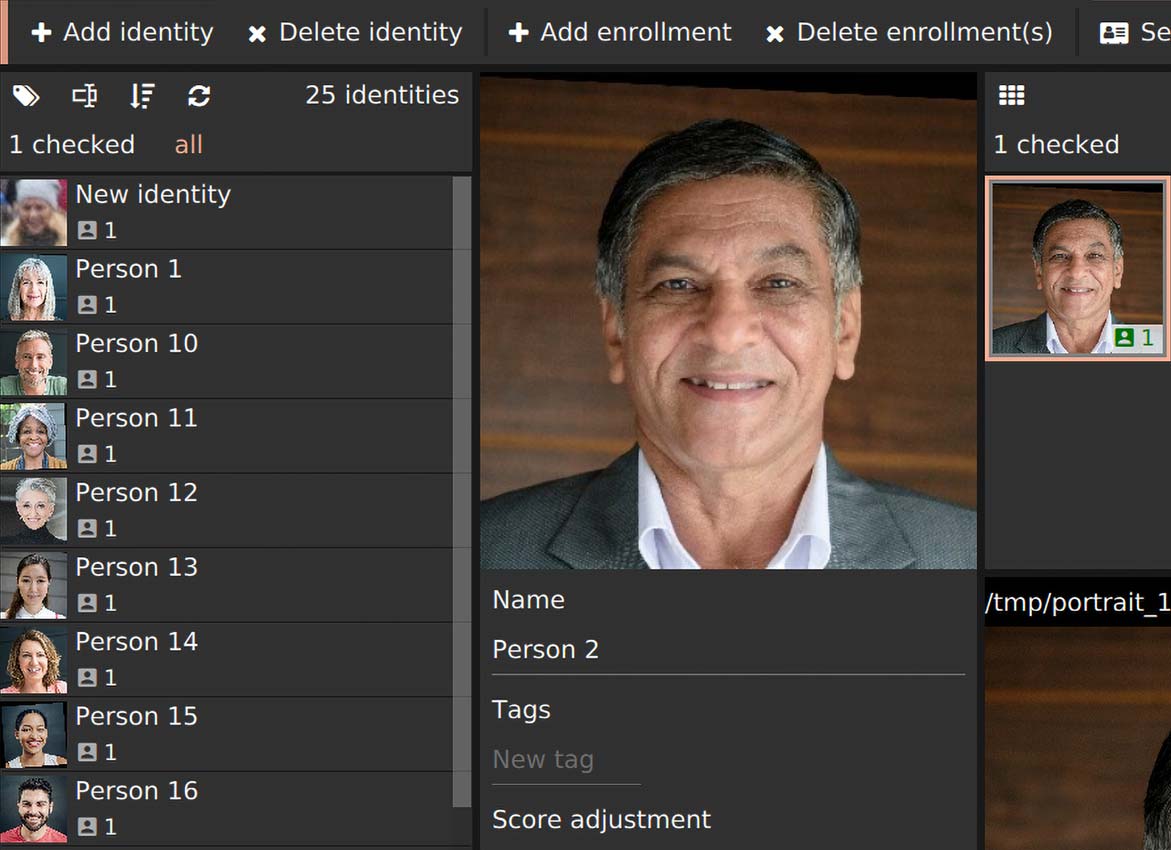 Manage identities

Identities can be created and dynamically extended with events from video or image sources. Image uploads can also be used to create identities.
Scales with your requirements
Camera Networks

In installations with many cameras, it is often not possible to process all video streams on a central server. Using camera endpoints, Videmo 360 offers the possibility to analyze video streams on remote computers, thus taking the load off the server and the network (edge ​​computing).

Multi-User System

For larger tasks and teamwork the Videmo 360 server can be installed on a dedicated server, which takes care of the computation work and data storage. The Videmo 360 clients connect to the server via network from remote workstations.

Single-User System

In a single-user configuration, Videmo 360 runs stand-alone on a PC. Database and user interface are local. Ideal for single users and small installations with low data volume.
Videmo 360 API
Via its documented programming interface (API), Videmo 360 exposes all of its functionalities to software developers. That makes it easy to integrate Videmo 360 into an existing infrastructure.
Open

All operations can be triggered via API and all data can be queried.

Scriptable

The network-enabled HTTP-REST API with JSON as data exchange format allows full programmatic control.

Extensible

Third-party systems can be easily connected and complex processes can be implemented quickly.
Videmo 360 – Technische Daten
System design

Videmo 360 Server: video analysis, data storage, provision of API
Videmo 360 Client: graphical user interface
Videmo 360 Camera-Endpoint: outsourced video analysis (optional)

Operating system
Windows or Linux
Video formats
Supports all common open formats as well as some proprietary formats
Cameras
RTSP network cameras, ONVIF, USB
API
Network-compatible HTTP-REST API with JSON as data exchange format
VMS connections
Capable of interfacing directly with video management systems Geutebrück and Dallmeier
Learn more
---
Contact us now for more information. Or call us at +49 721 627 101 35 – we are
happy to advise you on your project.